Courses Levels and Calendars

Course Selection is an important part of a student's Secondary and Post-Secondary pathway to achieving their goals and dreams.
Course calendar
Archbishop Denis O'Connor offers a wide selection of courses at many different levels. Students and parents/guardians can access our course calendar online at DO'C COURSE CALENDAR.
myBlueprint is an online tool designed to help students plan their future.
Course Selection: February 2019
Guidance Counsellors will host course selection workshops in early January. Course Selection Forms and Activity Fees are due THURSDAY FEBRUARY 21st, 2019
Guidance will arrange call downs on Thursday February 21st during periods 1, 2, and 4 for students by Last Name (in alphabetic order). Please proceed to the front entrance of the Learning Commons when you are called. You must bring the following items with you. We will not accept partial items. You must have everything in hand and ready to submit when you come down to the collection area.
Please bring the following:
Student Activity Fee Form with $75 fee

School Cash Online is the preferred method of payment
Print two copies of the receipt, one for your records, and one to be submitted with your course option sheet
Student may pay on course collection day (EXACT CASH ONLY), or Cheque (can be post-dated to May 1, 2019)

Course Option Sheet (with barcode) signed by a parent/guardian
Co-op Application Form (if applicable, next year Grade 11 and 12's only)
SHSM Application Form (if applicable, next year Grade 11 and 12's only)
Timetable Course Request Changes
Wednesday September 11, 2019: Deadline for Semester 1 elective course change requests
Friday September 20, 2019: Deadline for Semester 1 course level changes
Friday February 8, 2019: Deadline for Semester 2 course change requests
Friday February 15, 2019: Deadline for Semester 2 course level change requests
Students may pick up a "Course Change Request " form from Guidance, complete the form, and submit into Guidance as soon as possible. Students must be aware of the following:
All forms must be complete, with appropriate criteria. Forms that do not meet the criteria will not be considered.
Changes to electives will only be considered for grade 11 and 12 students interested in a pathway change.
Timetable changes will be considered in priority sequence starting with date they were submitted and stamped by the Guidance Secretary.
Students will be called down to Guidance by their counsellor to discuss the change.
Students in grade 11 and 12 who drop a course will incur full disclosure on their official transcript if course is dropped 5 school days after the midterm report is issued.
Students who have attended summer school must ensure timetable reflects the updated information.
Cracking the code
Secondary school courses are identified with a six character code. The first five characters are consistent throughout every high school in Ontario.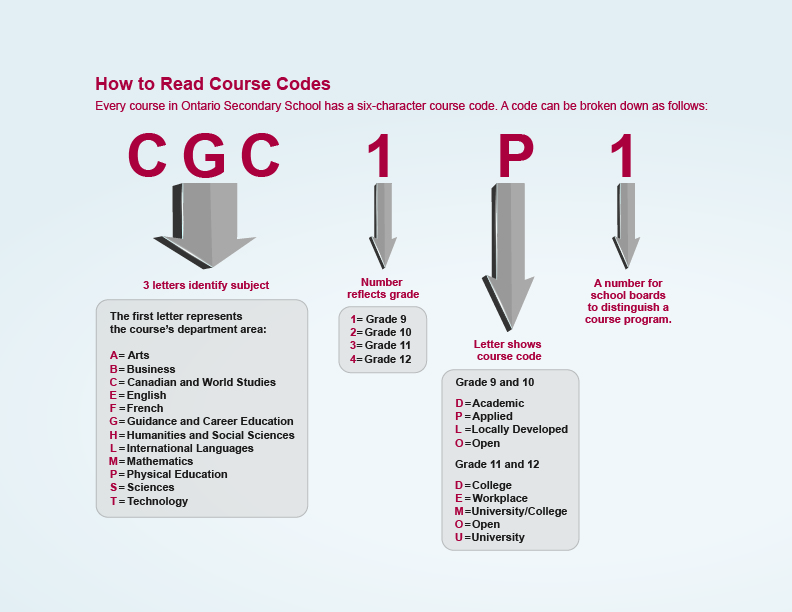 Type of courses
As part of your transition into Grade 9, you need to determine the academic level of courses you want to select. The academic levels in high school are:
Locally Developed Courses (L)
Students at this level:
learn the most essential concepts of a subject;
require teacher direction and instruction to accommodate learning needs and to complete activities;
improve basic literacy and numeracy skills;
learning skills need improvement or require consistent practice and reinforcement; and
students best suited for Locally Developed Courses have previously worked in the Level 1 range.
Applied Level Courses (P)
Students at this level:
learn the essential concepts of a subject;
emphasis is on practical and hands-on application of concepts;
students are more dependent learners, preferring discussions, teacher-directed or teacher-guided learning and real-life applications;
students who do well in Grade 9 applied have generally performed in the Level 2-3 range.
Academic Level Course (D)
Students at this level:
learn the essential concepts of a subject and explore related materials;
emphasis is on theory and abstract thinking as a basis for future learning;
students are creative and like to research and problem solve;
students are independent learners with good to excellent learning skills; and
students who do well in Grade 9 academic have generally performed in the Level 3-4 range.
Open Level Course
All students at all levels of academic abilities and learning needs and strengths can take an open level course. Expectations are designed to be appropriate for all students. These courses are usually in art and physical education.